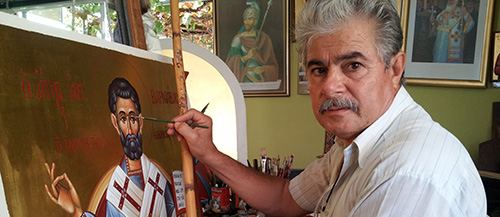 Stelios Christou was born and raised in the village of Kornos in 1950.
He got his first education in the small school of the village and at the age of 15 he went to the Holy Monastery of Stavrovouni near the well-known monk Father Kallinikos Stavrovouniotis where he studied and worked with him for 28 years, thus learning Byzantine art with all its secrets.
He has painted 4 churches with ancient art, but also many churches and houses throughout Cyprus are decorated with his icons. He has also represented Cyprus through the C.T.O. (Cyprus Tourism Organization) in many European countries.
Some of the works are in the Holy Archbishopric palace, in the church of Saint Sophia in Lakatamia, in Saint Panteleimon in Makedonitissa, in the Transfiguration of The Savior in Pera Chorio of Nisou, in the Holy Metropolis of Stavrovouni, in the Holy Metropolis of Stavrovouni, Saint Minas, in Saint Marina in Analyontas, of All Saints in Deryneia, Panagia in Liopetri, Saint Demetrios in Vrysoulles, Holy Forerunner of Kornos, and many other churches.
⏹⏹⏹⏹⏹⏹⏹⏹⏹⏹⏹⏹
Constantinos Christou was born on June 13, 1978 in the village of Kornos. He is the first of the five children of Stelios and Chloe Christou.
At the age of 15 he began iconography lessons in his father's workshop.
After a year, however, he begins mosaic lessons in the workshop of Giorgos Kepolas where he learns the art of patience, the art of mosaic, creating his own workshop.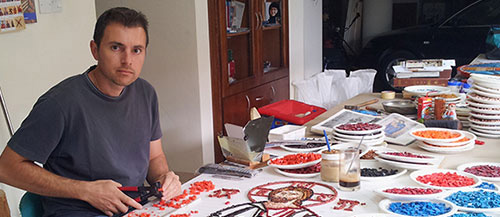 His works can be found in many churches, monasteries and houses in Cyprus, such as: Holy Monastery of Kykkos, Holy Monastery of Stavrovouni, Holy Monastery of Saint Minas, Holy Monastery of Saint Panteleimon Ahera, Holy Monastery of Machairas, Holy Archbishopric palace, Saint Raphael in Pachyammos, Holy Monastery of Salamiotissa, church of Prophet Elias in Germasogeia, church of Saint Paraskevi in Germasogeia, Saint Demetrios in Sotira, Saint Nektarios in Deryneia, Saint Panteleimon in Paralimni, All Saints in Frenaros, Saint Photios and Saint Demetrios in Anafotia, Transfiguration of The Savior, Panagia Tsambika in Pera Chorio Nisou, Saint Marina in Analyontas, Saint Panteleimon in Makedonitissa and many other churches.
Mosaic MARVELS
for EVERY surface